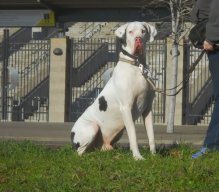 Last Activity:

Feb 21, 2014
Joined:

Dec 25, 2011
Posts:

4
Likes Received:

2
Trophy Points:
woofinfinity
New Member, Female, from United States
Great danes are the secret to living life at its fullest! Feb 19, 2014
woofinfinity was last seen:

Feb 21, 2014
About

Gender:

Female

Location:

Name:

sarah

Your dogs name/s:

Betty, Star, Arthur, Jade, Ruth, Teal'c, Zaffy

Breeds owned:

great danes

Other Breeds owned or previously owned:

Past: Deaf west highland terrier, chow/golden mix, miniature poodle, chis, cattle dog mix, chinese cresteds, border collie, weinerdog

Has owned dogs for:

9 to 20 years

Dogs Owned:

7 or more!

Number of dogs owned over the years.:

15 - 25

I have trained dogs to:

A Basic Level (up to 4 commands)

Believe in using positive training methods?:

Yes - but I will raise my voice if I have to

Have you ever shown any of your dogs?:

No but am considering it

Have you ever bred your dog?:

yes - I am an ethical breeder who breeds an occasional litter to further my breed only

Other Animals I own:

Marital Status:

Single

Drives:

Dodge Grand Caravan

I would call myself a great dane enthusiast, and small non-kennel breeder of great danes. My great danes are a big part of my life, they are my fur-kids.

My other interests include digital photography, recreational writing, and if I had the finances I would like to expand my experience with canine water therapy into a business.

MORE ABOUT MY GREAT DANES

BETTY, is a 7 year old black female, 34" at 128 pounds. Betty is the mother of Star, grandmother to Ruth and Jade; and is now a GREAT GRANDMOTHER! Betty is my shadow and best friend.

ARTHUR is a 3 year old harlequin male; weighs over 150 pounds, and 35" at the withers. Arthur is daddy to Ruth and Jade. He can be a knuckle-head at times but has a big heart.

TEAL'C is a full euro, blue male puppy from Poland. 165 pounds at 12 months old. This puppy is incredible, he is gorgeous inside and out; he is a thick, sweet, and thoughtful boy.

STAR is a 5 year old blue mantle female with a too-smart-for-her-own-good personality, but the older she gets the more easy going she has become. She is 35" at 135+ pounds; she is the mother to Ruth and Jade, and is now a grandmother.

JADE was the 1st born out of Star's 3rd and final litter (of 17). She is a harlequin female, and is now the tallest of the pack at 35.5" at the withers. Jade has a curious and playful temperament.

RUTH was 15th born out of Star's 3rd and final litter. She is a harlequin female. Ruth is a wonderful combination of both Star and Arthur, she is such a sweetheart.

THE TRUTH:

I really hate politics and bringing up frustrating topics, but I encourage people to learn and spread awareness about various multi-billion dollar non profit corporations such as HSUS, PETA, and the ASPCA that do not use donations for the welfare of animals as their commercials and campaigns advertise.

Please, if you are going to donate, support small local rescues or foster homes affected by recent laws passed by the USDA, causing them to reduce the number of pets they are legally able to rescue or forcing them to turn their homes into government inspected commercial facilities.

If you connect the dots, the initiation of new USDA laws REDUCES the number of pets being helped by small rescue type organizations, and instead gives more power and "stock" for major organizations to commercialize and monopolize "unwanted" pets. Even though these major organizations call themselves non-profits, their tax records say otherwise, paying six figure salaries to top executives, pumping a majority of donations back into fundraising, and putting next to nothing towards the actual care of pets in their facilities or affiliated facilities, euthanasia being their primary pet-related cost, which allows them to maximize their profits.

Here are some links to other informational websites trying to expose the corruption of HSUS, ASPCA, PETA, etc. Just Google any of these organizations with the words "unethical" or "corrupt" and some disturbing stories should pop up.

http://itisnotreal.blogspot.com/2012/09/the-terrifying-truth-about-aspcahsus.html http://drstevebest.wordpress.com/20...olocaust-labels-no-kill-advocates-terrorists/

One other issue that I wish to see more awareness of is the number of pets in shelters due to THOUSANDS of military families having to leave their pets behind when re-stationed to new locations around the globe. In order to keep a pet, they have to pay between $1,000 to $4,000 to be able to ship their pet, these costs are not covered by the military, and it is an expense often too high for military families to afford. I personally think that is ABSURD, after all the sacrifice our soldiers go through for our country how horrible that they must also lose their unconditionally loving furry family members. This needs to change!

Interact

Loading...

Loading...